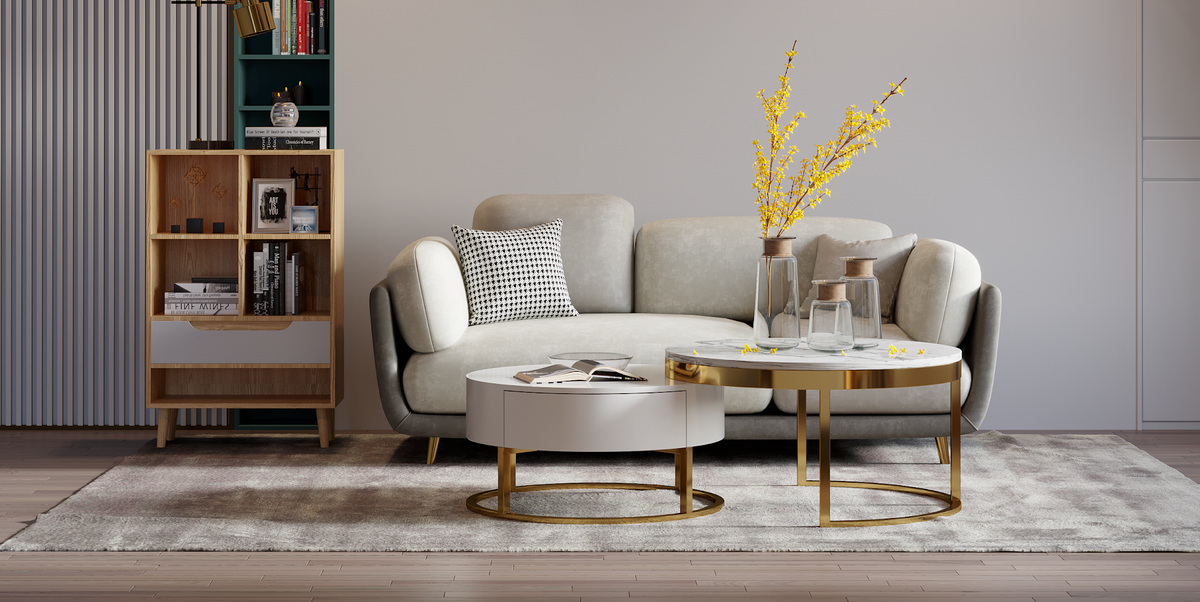 8 clever work from home decorating ideas
In a world where we spend endless hours at home, it's completely understandable that you feel bad about your interiors. Luckily, some of the latest decorating trends seem to fit our new WFH lifestyle. Furniture and accents are curvier and more comfortable, designed to make the most of your space and enhance the living experience. If you're in the mood for a refresh – whether that means a complete overhaul or just a few tweaks here and there – now's a good time to redecorate. Check out the designer-approved ideas below.
Soften your seats
Just as leggings and sweats have replaced jeans and pants in our new normal, comfy seats, which are just as good for napping as they are for virtual networking, it's a good idea to replace anything that's too stiff or heavy. An ideal replacement for a not so soft sofa, for example? at Homary's Curved sectional sofa, a mid-century style piece with oversized cushions covered in easy-to-clean performance velor. It's spacious and welcoming — and thanks to its modular design, you can reconfigure it to suit your needs, whether you're working, watching TV or entertaining.
Bring in the outside

We're all craving a little more nature these days (cabin fever, anyone?), so design elements that create or accentuate a view are in demand, reports Adam Meshberg, founder and CEO of architecture and interior design firm Meshberg Group. Some of the biggest requests include "sliding glass doors, oversized windows and NanaWalls, which are folding doors and glass wall systems," he says. If you're looking for a smaller revamp, create a natural vibe with earthy accents like a woven pendant in the entryway, wicker baskets in the bedroom, or hanging air plants in the shower.
Adopt the lived-in look

The easiest way to help your space feel even more inviting is to sprinkle in items that look lovingly worn or collected over time. All you need are a few well-placed pieces. Try an aged mirror or vintage-inspired lighting like this square lantern of Homarie; with a wood and metal frame and candle-like bulbs, it gives a room a warm glow and an old-fashioned French country feel.
Make your furniture work harder

Many of our homes now serve as offices, daycare centers and gyms all rolled into one, which has led to multifunctional rooms that are having a moment. "There is a growing demand for modular furniture that can be put together in multiple ways and accommodate multiple needs, such as working, dining and socializing," confirms Sara Ianniciello, design director for Whitehall interiors in Manhattan. A good example ? the Nesting wooden coffee table by Homary, which features a top that converts into a raised desk, with a cubby to store supplies and hidden drawers for even more storage.
Get darker in the kitchen
With all the extra hours we're spending at our stoves instead of eating out these days, it's no wonder many of us are craving a cooking space that's a little more fun. "We're seeing homeowners move away from light, all-white palettes toward darker hues," says Meshberg. Deeper hues "create a more distinctive luxury feel." If you're intrigued but don't want a kitchen entirely awash in color, consider pairing rich oak or walnut cabinetry with lighter countertops and floors – a 'safer' choice with visual contrast.
Maximize your cooking space

Some people have always thought of their kitchen as a place to cook meals and do work (or homework), but that's even more common now that we're more housebound. Enter: Double Island. With this feature, a wet island on one side houses a food prep station as well as a dishwasher, sink, or cooktop. The dry island on the other side is more of a lounge area with seating and storage. The idea, Meshberg says, is to keep socializing, working and eating in the kitchen, with more food prep space so no clutter gets in the way.
Hide your devices
As for making this versatile space a little more inviting, it's all about integrating or hiding the inner workings of the kitchen to give it a cleaner, sleeker look, Meshberg says. In other words, the days of seeing a suite of stainless steel appliances, an industrial range hood, and even hardware are fading. Solutions include specially designed countertops that camouflage stoves, espresso machines and similar items. Easier solutions are to strategically drill holes in existing cabinets for expansion cards so you don't have to dig small devices out of hiding to use them. "A concealed kitchen is seamless and looks less cluttered," she says. "It provides a sense of visual order and well-being."
Refresh your wall space
Well-being at home in a post-pandemic world is valued more than ever, and there's a rising trend that offers both peace of mind and fresh air: living walls. They're exactly what they look like – a wall or part of a wall covered in growing greenery – and there are plenty of ways to pull one off, from hanging plants vertically in groups to installing modular hydroponic panels that deliver water and nutrients electronically. We'll see more and more of them, not only "because houseplants have a calming effect and promote clean air," according to Ianniciello, but also because they simply look great. "From an interior design perspective, there's something about verdant green that makes a space more lively and joyful. Not to mention that it complements all palettes.
This content is created and maintained by a third party, and uploaded to this page to help users provide their email addresses. You may be able to find more information about this and similar content on piano.io